"Love and compassion are necessities, not luxuries. Without them, humanity cannot survive."

Dalai Lama
Inspired, devoted, resilient and compassionate are only a few adjectives that can be used to define Mrs Amina Wattoo Kasuri. You may ask who she is? Where does she come from? How is she contributing to society? Is the work she is doing making a difference? Well, to sum it all up, after Edhi Sahab is Kasuri the humanitarian that Pakistan has been waiting for?

Daughter of the former Chief Minister of Punjab, Amina talks about her journey as a designer, the project manager of a chain of colleges (Concordia Colleges), and her brainchild and dream project, The Lighthouse.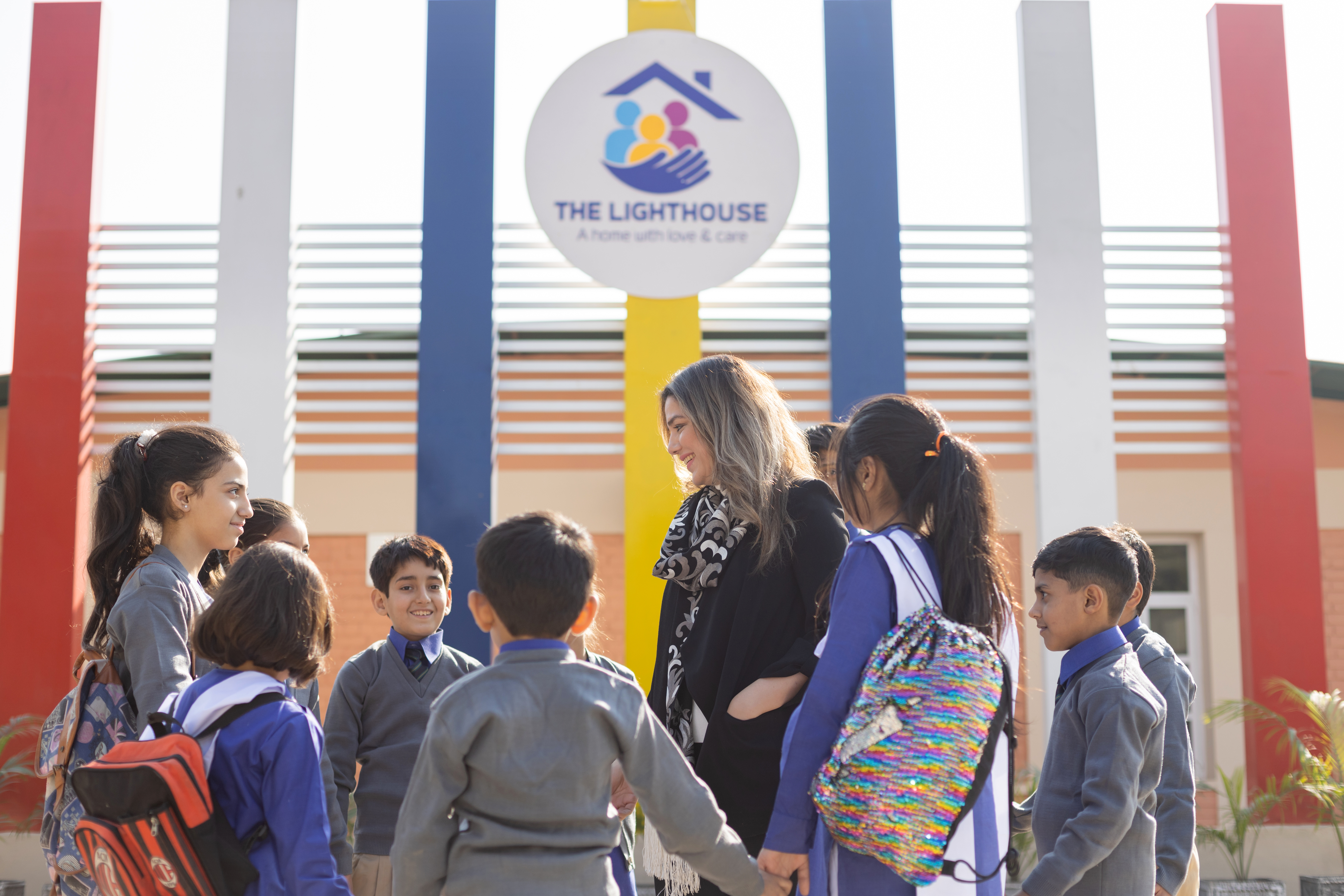 How did it all start?
Daughter of one of the most influential political figures of Pakistan, Manzoor Wattoo, who has also served as the Chief Minister of Punjab (1993), Amina is not new to the world of politics and media. When asked about how she developed a passion for humanitarian and philanthropic work, she says she owes it all to her father; an ever accessible, supportive, and helpful man of the public.
The admiration Amina holds for her father is much like the late mohtarma Benazir Bhutto had for hers (Zulfiqar Ali Bhutto).
"I have seen my father stay up late on most nights when I was a child. Irrespective of the time, my father would be ever available to listen to and help people. We had widows, children and other people at our place most of the time. I remember I used to put my father's phone on silent at 3 in the morning because it kept on ringing."

Amina Wattoo Kasuri
No stranger to rural and village life, Kasuri recalls how her father spent his free time amongst his village fellows listening to their problems and solving them. To quote a specific incident, she tells how her father built the first school for girls in the village, where importance and favor for education were predominantly given to boys.
Listening to Amina talk about her father, one can sense the pride and admiration she holds for him. According to her, being exposed to such a helpful and selfless nature of her father from the beginning has played a major role in shaping her view on life. When asked about how she saw herself in the future when she was a child, it comes as no surprise that Kasuri aspired to become an astounding humanitarian like Princess Diana. Amina has met the late Princess Diana on her visit to Lahore as well.
Upon being asked if there was a significant event or incident in her life that solidified her devotion to humanitarian work, Amina mentions how paying attention and listening attuned her to the problems that most people face. Irrespective of where she was or used to go, she always paid close attention to what someone had to say. Whether it was sitting with her father in the village listening to problems of the rural folk or hearing people talk about their issues on an election campaign, listening and taking action had always been at the forefront of her priorities.
"Whenever I went with my father for election campaigning, I saw so much pain and helplessness. I wanted to do something to make their life better for the people and would write down their details (respective address, name and village) and then try to help them in whatever capacity I could ."

Amina Wattoo Kasuri
Getting personal
Moving on to less intense conversation, Amina says she likes to spend her spare time at home. Snuggled with her children in their tiny bubble of love and warmth, the family likes to watch old movies and read Ahmed Faraz's poetry. However, if you ask her to recite something, do not expect her to remember the poetry word for word.
Favourite mode of caffeine intake?
Staying true to her desi roots, Amina says she loves chai.
In today's world of media, paparazzi and social media, appearances, clothing and fashion are one of the most talked-about aspects of a public figure. A quick look at Kasuri's social media profiles can show how active she is in engaging with her audience(s) on all platforms. To have worked briefly as a designer herself, we asked how that came into being and what her take on style and fashion is.
"I do not follow the current trends at all. I wear whatever I like and if I see that I look presentable I am good to go. To be honest I was never into a rat race or followed anyone in fashion. One should be original, authentic to themselves. From a very young age, I realised that many people around me were (and still are) very much into designers and they spent most of their time competing with others. All I am saying is that healthy competition is good but in more productive things."

Amina Wattoo Kasuri
Circling back to work for the less privileged, Kasuri says that she is not very fond of competition in such shallow matters.
I briefly worked as a designer and was doing quite well. After I got married when I had my first child, Sulayman, my entire life changed. I took a break from work to devote my time to my baby and after two and a half years Roshan Ara came. Soon after we started Concordia Colleges, a project of beaconhouse in 2015 and the rest is history."
The Lighthouse is, as one might say, Amina's dream project. She explains how she intends to take in 10 parentless children per year from challenging socio-economic backgrounds. They will be provided food, accommodation, education, and vocational training up until the age of 17.
For Kasuri, it is extremely important to make the children self-sufficient by the time they graduate from. The Lighthouse. She believes that a combination of vocational training with education will make these children independent individuals. When asked about how and where she sees The Lighthouse in the next 10 years, Kasuri says:
"Everything I have seen in my life has culminated in the establishment of The Lighthouse. I am blessed to be able to give back to society in this way. It is heart-wrenching to see children struggle without parents or guardians to take care of them, or guardians to take care of them. Sometimes at the airport or in public gatherings if I see a child alone, I ask them where his/her parents are and I am not at peace until they are reunited. That is why The Lighthouse is a safe home with love and care. It will provide food, shelter, and education. We are launching the children's home in Islamabad in August InshAllah and the plan is to expand it all over Pakistan."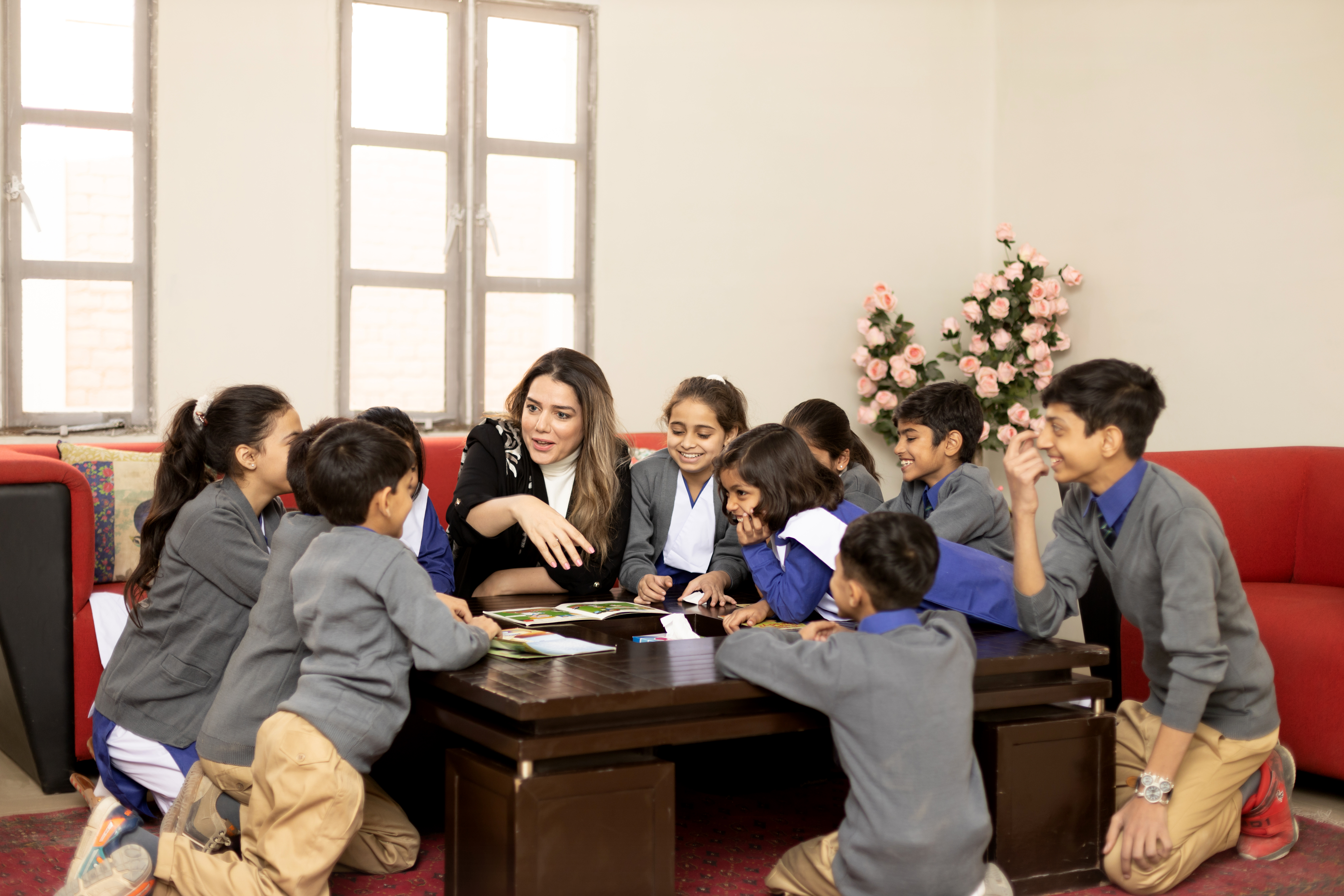 Taking on the responsibility of caring for children in today's age is by no means an easy feat. What are some of the challenges that you might face while taking care of these children and how do you plan to overcome them?
"I realize this is a huge responsibility. My topmost concern is the safety and wellbeing of children and that they are in a secure and sound environment."
Explaining how she will fully immerse herself in the project with a hands-on approach, Kasuri tells how all hired professionals will be thoroughly vetted before being able to work with the children.
"We are in the process of hiring a professional team which will be evaluated to ensure the children are safe and in good hands. They will be directly and closely monitored by my team and me."
In your opinion, what sets The Lighthouse apart from the work of other non-profit organizations?
"Beaconhouse has over 45 years of experience in providing quality education to children, which is not just limited to the classroom, but includes emotional wellbeing and life skills. The Lighthouse is therefore unique because we have the relevant experience of imparting learning to educate successful children . Having worked closely with those children over the years has given us keen insight as to what their requirements are from education to living arrangements and diet as well as child protection rights . We have so many volunteers who want to come forward from Beaconhouse. They will be teachers and students. The Lighthouse will not only have boarding but we will alsi introduce language classes and vocational training to ensure students who graduate from here have the right skills to succeed in the world."

Amina Wattoo Kasuri
---
Talking further about The Lighthouse and how nothing comes easy in life, Kasuri talks about the challenges that she initially experienced when taking on the project.
"I think the challenge was mostly delayed on site. Construction delays or everything. The biggest challenge is to set up an educational institute from scratch and train teachers and caregivers to be able to teach as well as understand the need for empathy. I guess, I like challenges so I am okay. Without challenges, life is very boring."
We further get a glimpse into her selfless nature where she tells us how she has been associated and actively working with a significant number of orphanages in Punjab. She also reveals how she intends to serve the needy by financing sustainable projects for them.
Have there been other philanthropic projects that you have taken on or worked on in the past? If yes, what were they?
"I have been involved in numerous projects with other orphanages so I visit them regularly, talk to the teams and interact with children. Beaconhouse regularly donates books and furniture to such organisations the Kasuri family also distributed Covid relief in the form of ration packages. In fact , I was the one who came up with the tag line "har qadam Pakistan ke sath"and truly believe that together we can help create a better future for our country.. Right now my top agenda is to set up a dastarkhwan for the less privileged and feed as many people as we can. We are also working on a rozgaar project under The Lighthouse where women will be provided sewing machinesand tuck shops will be set up for men in order to increase income generation opportunities in the local community. Our objective is to promote skills development so that individuals can stand on their own two feet."

Amina Wattoo Kasuri
While the interview may be taking place in 2021, a single Google search can attest to the fact that Amina has been working tirelessly, engrossed in humanitarian work for the past few years.
Has being a woman or belonging to an influential family ever interfered or worked against your favour?
"Alhamdulillah I have not seen any problem being a woman or coming from an influential family or perhaps I am not bothered. People sometimes say unreasonable things on social media but I ignore them since they do not know me. They are only seeing one side of the picture. They are Kabil e Maafi"
What advice would you have for young Amina?
"For young Amina, my advice is to focus on what you want to achieve in life. Focus on your education and treat your parents with kindness and respect. Do not let the world take your happiness away. Be good with others and do not expect anything from anyone. Life is too short to hate so do not hate. Spread love and positivity."
Same question for the audience reading; what is one piece of advice that you wish everyone implemented on?
"Think positive, live and let live, please. Do not impose your opinion on others. Be open to other religions. Spread love and positivity. It will make you a better person and trust me you will contribute so much to society. If a person is happy and content then our society and people will grow as positive human beings. God bless you all."

Amina Wattoo Kasuri
It is abundantly clear how important well-educated and groomed youth is to Amina. According to her education, and a professional skill set will certainly aid in the children becoming empowered and independent adults. By taking care of not only the financial but the emotional well-being of the children, she says that The Lighthouse will cater to every need that a child has in their formative years.
Starting with 40 children, the number of children taken in will increase yearly, as required. The first branch is all set to launch in August, near Islamabad.
Taking most inspiration from her father, the saying "the apple doesn't fall far from the tree" definitely holds in Amina Wattoo Kasuri's case. With years of experience handling a string of colleges under her belt, Amina's The Lighthouse is a bright light on the horizon of Pakistan's future.

Social Media Links:
https://www.instagram.com/aminawattookasuri/
https://twitter.com/AminaKasuri/